What is an extension?
What is an extension? Extensions are extra features and functionality that you can easily add to your web browser. By using extensions, you can customize your web browser with features you like, while keeping your browser free of things that you don't use. The Eternal Reminder extension allows you to set a reminder for your ancestor without ever leaving the FamilySearch website.
NOTE: The extension is currently only compatible with Google Chrome.
---
How do I use the extension?
Open the extension
After downloading, you should see a button in the top-right of your internet browser that has the Eternal Reminder logo displayed.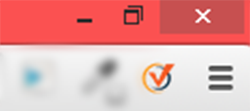 Paste your ancestor's ID
After clicking the logo you should see a box asking for your ancestor's ID. Type or paste their ID number in the box and click the "Add Reminder" button.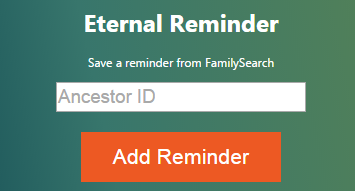 Done!
You should then receive a success message telling you that your reminder has been added!